Ideal for hosting central London conferences and corporate events, the Royal Institution saw our first covid-secure conference of 2021 in June.
The venue team were put to the test and delivered a safe, effective and enjoyable covid-secure conference at our Mayfair venue. Our 'Good to Go' accreditation from Visit Britain means we were well prepared for the challenge of hosting a largescale live event.
With livestreaming, hybrid conference presentations, masks, social distancing, one-way systems and covid testing pre-event and onsite – we did everything possible to keep our guests safe.
Covid-Safe Event Layouts
The period spaces at the Royal Institution are ideal for covid safe events as they are extremely versatile. Many of our event spaces interconnect and with two major staircases, the venue lent itself to a one-way flow for guests.
The capacity for the event was at 50% with social distancing in place throughout the venue, however, our guests were still able to socialise using the inventive layouts created by our events team.
The theatre capacity was capped to allow distancing within the space and the main content was then streamed to the Library and Georgian Room, both of which acted as overflow viewing spaces as well as a space for guests to network and discuss the content.
Layouts included 6ft round cabaret tables in the livestreaming spaces which could seat multiple guests and allow them to engage with each other while watching the main sessions.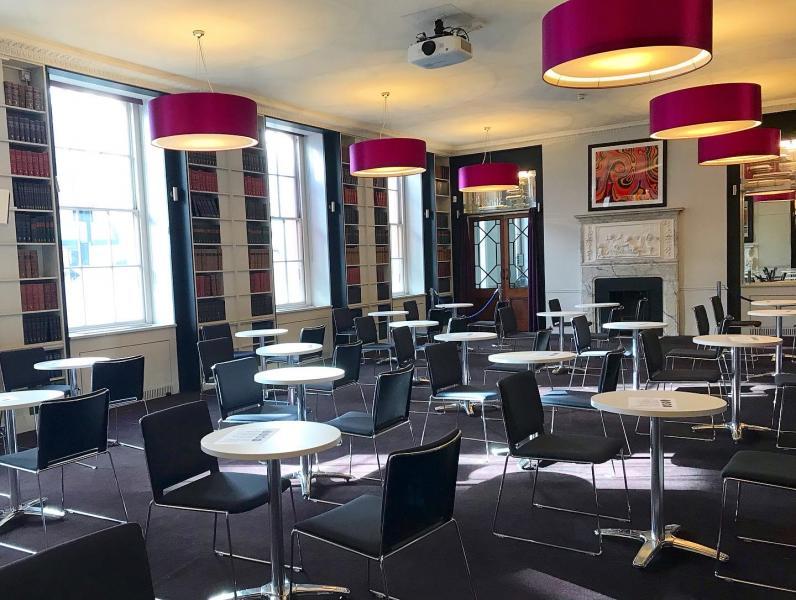 A networking café was created in the Conversation Room and Atrium where tables of two were created at which guests could sit together and network with tea, coffee and lunch. This layout allowed guests to remain distanced while still enabling a key function of live events, networking.
Safety-conscious conference catering
Searcys, our expert catering partners, have worked hard to create inspiring hospitality offers that can be delivered safely under current guidelines.
Their chefs have revised and reimagined the Searcys food and drink offer to minimise contact. In this case creating individual vegetarian and vegan bento boxes for our guests to enjoy throughout the event.
In particular our guests appreciated the delicious and imaginative salads on the hottest day of the year so far!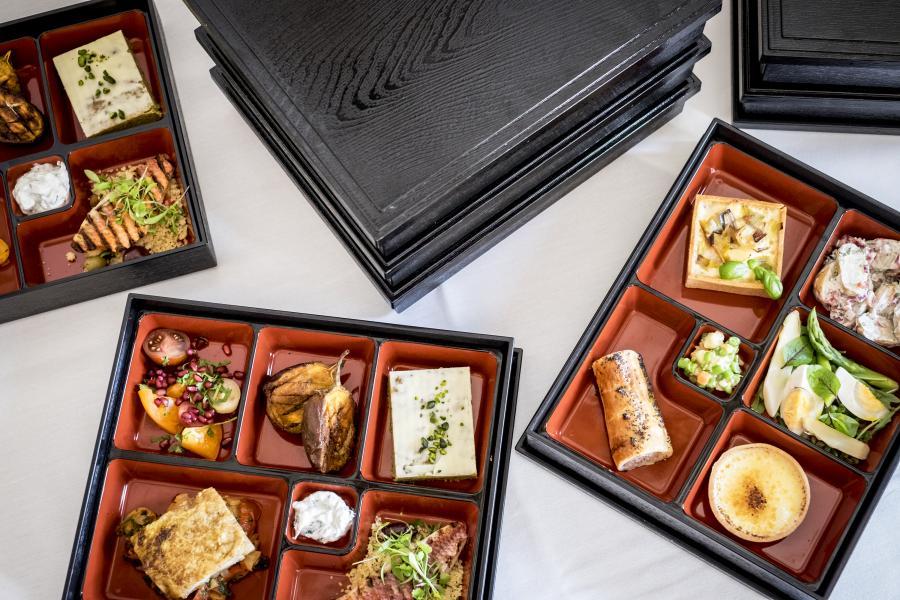 Tea and coffee was also served throughout the day and a drinks reception was held in the evening with staff serving drinks directly to guests to minimise touch points.
Keeping Our Guests Safe
We wanted to ensure that everyone in the venue, guests and staff alike, felt safe attending a live event, the first of ours in 2021. Our clients decided to provide a covid testing service for their delegates in advance which we then rolled out to all staff working on the event.
We also housed an onsite testing centre for anyone who was unable to be tested in advance or required re-testing before entering the event.
Masks were required throughout the venue and hand sanitiser points were provided throughout the venue.
An enhanced cleaning schedule was in place with a dedicated cleaner, ensuring all  major touch points were cleaned hourly and monitoring bathrooms.
These measures allowed our guests to feel safe and confident attending a live conference, networking with each other and engaging with the speakers.
We were delighted to host this event in our venue and show that covid-safe events can be delivered and provide a fantastic experience for attendees.