Raise a toast to celebrate your wedding at the Ri with a special Searcys signature champagne!
Did you know that Searcys has been hosting wedding celebrations for over 170 years? Established in 1847 by Victorian entrepreneur and the Duke of Northumberland's confectioner John Searcy, Searcys have been at the heart of this most special of occasions since Victorian times.
The Royal Institution, our historic venue in the heart of Mayfair, is a licenced wedding venue available for intimate, beautiful wedding parties for up to 15 guests as well as larger celebrations for 2021 and 2022. Spaces such as the Library and the Georgian Room are perfect for smaller ceremonies as well as elegant wedding breakfasts provided by our catering partner Searcys.
With over 174 years' experience in catering for weddings, Searcys, and the Royal Institution venue team, are ready to host your special day, with elegant Mayfair event spaces, bespoke menus focused on the best seasonal and British produce, and expertly paired wines and Champagnes to celebrate.
In 2020, 127,000 weddings were postponed, according to a study by Hello-safe.co.uk. Around 80% of UK weddings take usually place between April and September, but last year, the nationwide lockdown and social distancing restrictions banning gatherings wiped out peak wedding season, with 80% of weddings postponed and 51% of celebrations "significantly impacted," the study found. Up to 410,000 weddings could happen in 2021. Some 80% of cancelled weddings have been rescheduled for 2021, meaning the wedding industry will have to cater for around 160,000 more weddings than usual this year.
Searcys' online partner Hitched.com surveyed more than 400 couples with weddings planned between September 2020 and January 2021 to understand the impact the Coronavirus pandemic is having. The good news: 95% of couples are not planning to cancel their wedding. The vast majority are opting to reschedule or throw a micro-wedding on their original date, showing that, even in uncertain times, couples are determined to get married.  Nearly three-quarters of couples with weddings scheduled before the end of January 2021 are choosing to postpone to later in the year or into 2022.
Although not new, micro weddings offer a perfect way to create your big day, where every detail can be tailored to meet any want or need. The Royal Institution and Searcys team are here to make your event special and memorable.
Over the past few months, Searcys has been curating bespoke weddings for couples, customising options from menus to music, as well as quirky touches of personalised bride and groom face masks, ensuring all is done in a secure way for all guests. Interesting food and drink themes, from miniature champagne bottles for a toast to touch-free menus delivered in stylish boxes, let your personality shine.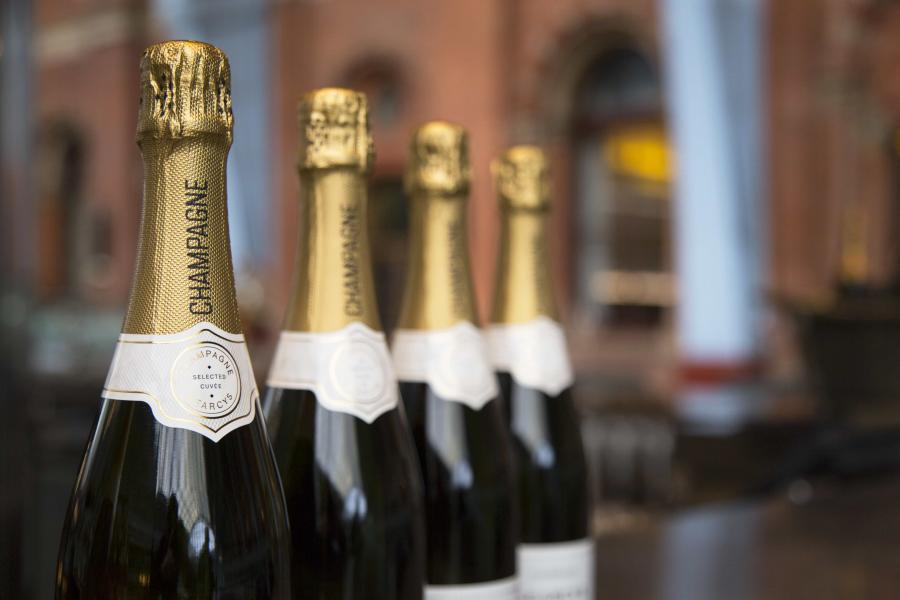 Just in time for the traditional winter proposals season, Searcys has launched its Champagne delivery service. Available at the Royal Institution, Searcys signature Brut and Rosé Champagne is now available in their online shop. Enjoy 48-hour workday delivery and complimentary gift box or bag to choose from. The full range of options is available here https://searcys.giftpro.co.uk/category/searcys-champagne-gifts/
COVID-19 secure venues
In past few months, we have been working hard to implement COVID-19 government guidance to ensure that our event and meeting spaces are safe for you, our delegates, our teams and suppliers.  Each Searcys venue receives "We're Good to Go" industry accreditation, launched by VisitBritain, which confirms that we adhere to the Government and public health guidance. More so, all Searcys venues are regularly audited and accredited by NAVITAS, our nominated independent health and safety consultancy for compliance in line with our secure safety framework.
Our measures that have been implemented for our teams, contractors and guests include enhanced cleaning regimes, tightened access control, revised our event room capacities to support social distancing and increased wayfinding signage. When setting up a meeting room, we allow 2m distance between the seats.  Searcys have introduced touch-free menus and re-trained their teams to serve food in a new way.